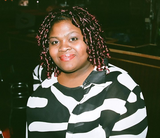 Welcome to My Writing Process Blog Tour Day. This blog tour is where writers and authors answer questions about their writing process. My friend Nikki Walker posted hers last week. You can check out her writing process here: http://nikeezbookstore.wordpress.com/2014/04/07/my-writing-process-blog-tour
What am I working on?
I'm currently working on Volume Four of my Voluptuously Curvy and Loving Series titled Drafted For Love.
Drafted For Love tells the story of Gabrielle Wright, who is a powerhouse when it comes to representing her clients and negotiating contracts. She even opened her own sports agency and is the top agent in the industry, but when it come to her romantic life she is throwing in the towel. She is a feisty, independent, plus size woman that wants a man that can love her the way she deserves, and not just see her fame and money.
Sebastian Scott is a college senior that has been so focused on his grades and football that he doesn't get to party like his friends. Plus he's tired of all the games the women his age play to get next to him, because of his promising football career if he gets drafted into the NFL. He wants a woman that knows her own worth, and that can love him for the man he is, and not for what he can do for them.
As you read the story ask yourself will these two work focused people open each other's eyes to the burning passion that two people can ignite in the heat of them moment, or will they keep it strictly business? Will Gabrielle finally lower the walls around her heart and let a young man ten years younger than her show her what true love can be? Is Sebastian up to the task to win Gabrielle's trust and love?
 I am also working on Volume Five of the series titled Dreams Come True.
How does my work differ from others of its genre?
 My novels are different because I have added spice and passion by creating stories about plus size women that are feisty, voluptuous, and intelligent, who know what they want and will do what needs to be done to get the men they love.
Why do I write what I do?
 I write romance because I love happy endings and the passion between two people when they discover true love with their soulmate. I also wanted to focus on women that were plus size because you don't see a lot of romance novels with plus size heroines. I wanted women to be able to relate to my characters and realize that no matter their size or shape that they deserve love and should not settle for anything less than total happiness.
How does your writing process work?
 When I start a new project I always sit down and outline to book from beginning to end. Sometimes my characters have other plans and decide to change some things but its always good to have a outline for reference. After my outline, the fun begins with researching my story location, characters professions, and other topics. Once I start writing, I normally six to eight hours a day and its normally after my kids go to school or late at night after everyone is in the bed. The next step for me is the editing process after I finish my first and second draft, which I normally do till I can't find any more errors. Then I edit some more just to make sure I caught every thing because I want to give my readers the best.
 Thanks for stopping by and reading my post!!  You can check out the writing processes of my fellow authors Don Abdul, Theresa Henry, and Renee Luke next Monday, April 21! 
NEXT WEEK
Don Abdul - I'm a writer and author of erotic fiction in my 40s. I discovered creative writing as a way to escape the dullness of small town life from an early age. My journey as an author of erotic fiction began with a passion for writing erotic poetry and then spicy short stories.
Some of my other works of erotic fiction have been published under my Nom de plume, Tyrese Jordan.
Blog: http://don-abdul.blogspot.com/
Theresa Henry - I grew up and currently live in London, England.
I love to read, and discovered the enjoyment that can be found in books at around the age of nine. I have been an avid reader ever since.
Abandoned but not Alone is the first book I have ever attempted to write, and I loved creating it from start to finish. I want to write all the time, once I get started I just seem to have so much to say. If you knew me personally, your first comment would be 'nothing new there'. I'm a great talker, putting pen to paper or in this instance, finger to keyboard, has given family and friends a welcome respite from my constant chatter.
Page: https://www.facebook.com/authortheresalhenry?ref=hl
Renee Luke - Renee Luke is a multi-published award-winning author, who has written for several houses, but is now self-publishing. She writes stories with rich texture, deep emotions, and realist characters. She creates stories where sensual seduces erotic and believes in love, romance, and happily-ever-afters.
Website: http://www.reneeluke.net/
Categories: None